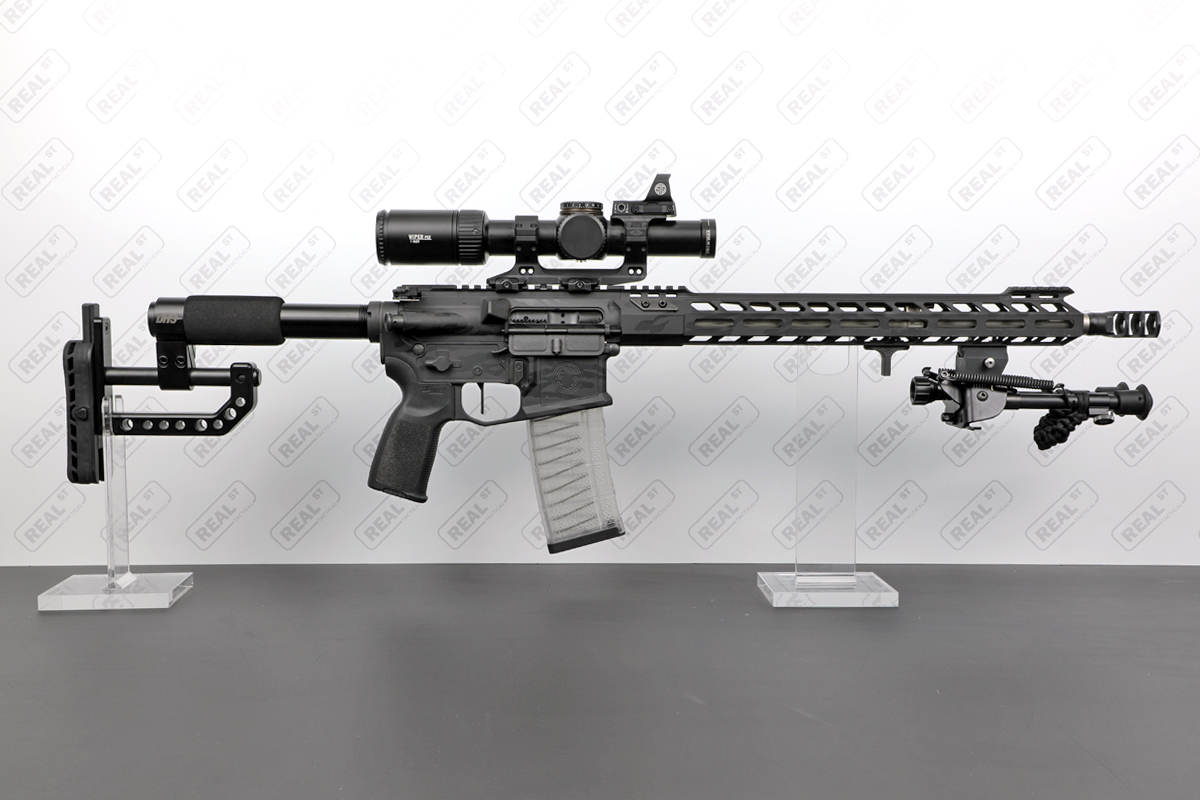 Parts List
Harris QD Picatinny Bipod
Custom Real Street Tactical Black on Black Stripe Camo Pattern Cerakote
Purpose
To compete in carbine matches with targets ranging from 0-300 yards.
Why this one
Speed
Weight
Reliability
Convenience
When I started competing in carbine matches, my number 1 concern was that I wanted to go out there and have a good time shooting something that wasn't going to give me any headaches. I didn't want to be out there in the middle of a match diagnosing malfunctions and learning what was and wasn't working. And I didn't want to have to spend a lot of time setting up the gun.
Trigger
The Sig Sauer M400 DH3 came out of the box with an adjustable Timney DH3 competition trigger that ended up being REALLY fast. I fell in love with the trigger the moment I shot it, and ended up putting that same trigger in all of my guns that take AR15 triggers.
Ergonomics & Weight
The feeling of the small diameter hand guard was a nice surprise. I was used to the bigger hand guards of the Sig MCX Canebrake and Virtus, and switching to the smaller M400 DH3 hand guard ended up feeling easier to control. I added an Arisaka Finger Indexer to help promote consistency in my form.
I wasn't sure if I was going to like the fixed competition butt stock but it has grown on me to the point that I really like it a lot. It looks a little different, but it IS adjustable and it works really well.
Muzzle Brake
The muzzle brake helps the gun shoot very flat with almost zero muzzle rise, but i've been told the volume is intense for the range officer following me with the timer during matches.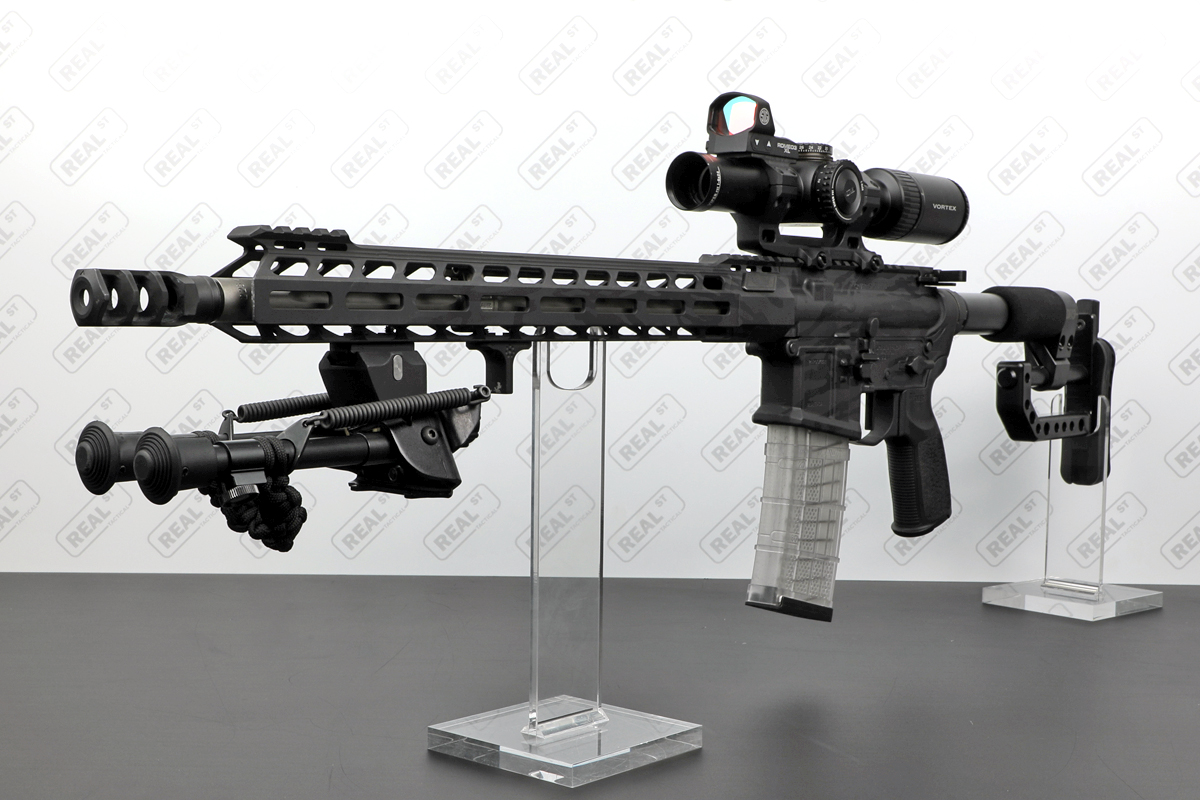 Optics
The carbine matches I have been shooting at usually have 4-5 close-quarters stages with targets ranging from 0-30 yards, and 1 long distance stage with targets at 200 and 300 yards. I went with a 1x red dot mounted above a low power variable scope to get the best of both worlds. I use the 1x red dot in the close quarters stages, and the scope on 6x during the distance stage.
Some people have asked me why I went with a 12o'clock position for my red dot instead of a 45deg canted mount. I think this comes down to personal preference, but since I end up using the red dot for 95% of the match, I want the gun to be in the normal shooting position for that 95% of the time. Taking occasional close shots with a distance gun canted at 45deg wouldn't be bad, but my personal preference is that I do not want to be shooting 95% of a day-long match with the gun turned 45 degrees.
I went with a Vortex Viper PST GenII 1-6x scope, mainly because I already had it on another rifle to steal it from, and 6x would work for my farthest shots of the competition at 300 yards. It ended up working really well. I miss very few shots at 300 yards with it, the glass is very clear, and the eye relief is forgiving compared to some of the other scopes I have tried. There are other scopes like the Sig Tango that would work great here, and there are better scopes from Vortex like the Razor series that would be even better. I would have gotten the razor if I didn't already own a viper that wasn't in use at the time.
for the 1x Red Dot on top, I went with a Romeo3XL. It is my personal favorite for 1x red dots because of the big glass and minimal bezel. I actually run this same red dot on my MPX and on my Staccato XC. To mount it above the LPVO I ended up using a Reptilla ROF-90 piggyback red dot mount for a Leupold Delta Point Pro, and ground the dowel pins off because the Romeo3XL uses the same bolt pattern as the Deltapoint Pro but it does not have recessed pockets on the bottom to receive the indexing dowel pins like the Deltapoint pro does. So removing the pins off of the mount allows the Romeo3XL to mount flush. This probably isn't the most reliable way to mount a red dot but I check the torque on my mounting screws and check my zero before every match and it hasn't failed me yet.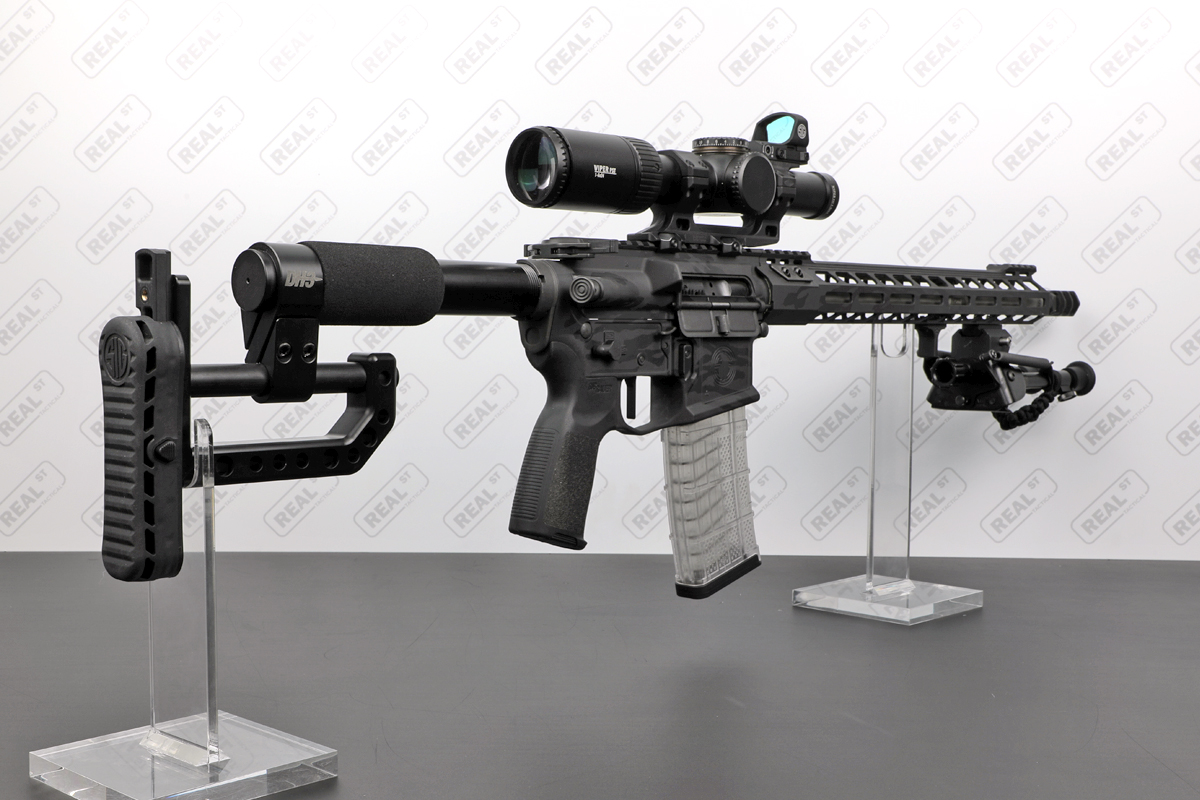 Bipod
After a couple of matches with particularly challenging distance stages where we were made to shoot from uncomfortable positions, I added a Harris QD Picatinny Bipod on a Magpul M-LOK to Picatinny adapter. This allows me to attach the bipod during the distance stages, but remove it quickly if it becomes an obstruction for a particular shooting position. I also used some paracord to tie the legs of the bipod together so that both legs can both be deployed at the same time by pulling just the closest leg down.
Magazine
I usually run clear 30rd Lancer magazines during the matches so I can quickly see capacity at a glance. But I also have 40rd Magpul magazines for the matches that look like I might need to make up for some misses at speed.
Overall this recipe is pretty simple. The gun comes out of the box ready to shoot. All it needs is an optic. The finger indexer is something I recommend, and i'm still deciding how I feel about the bipod but all in all I highly recommend this gun to anyone that is looking to get into carbine matches. You just take it out of the box and have a great shooting experience without having to swap things out or dial anything in.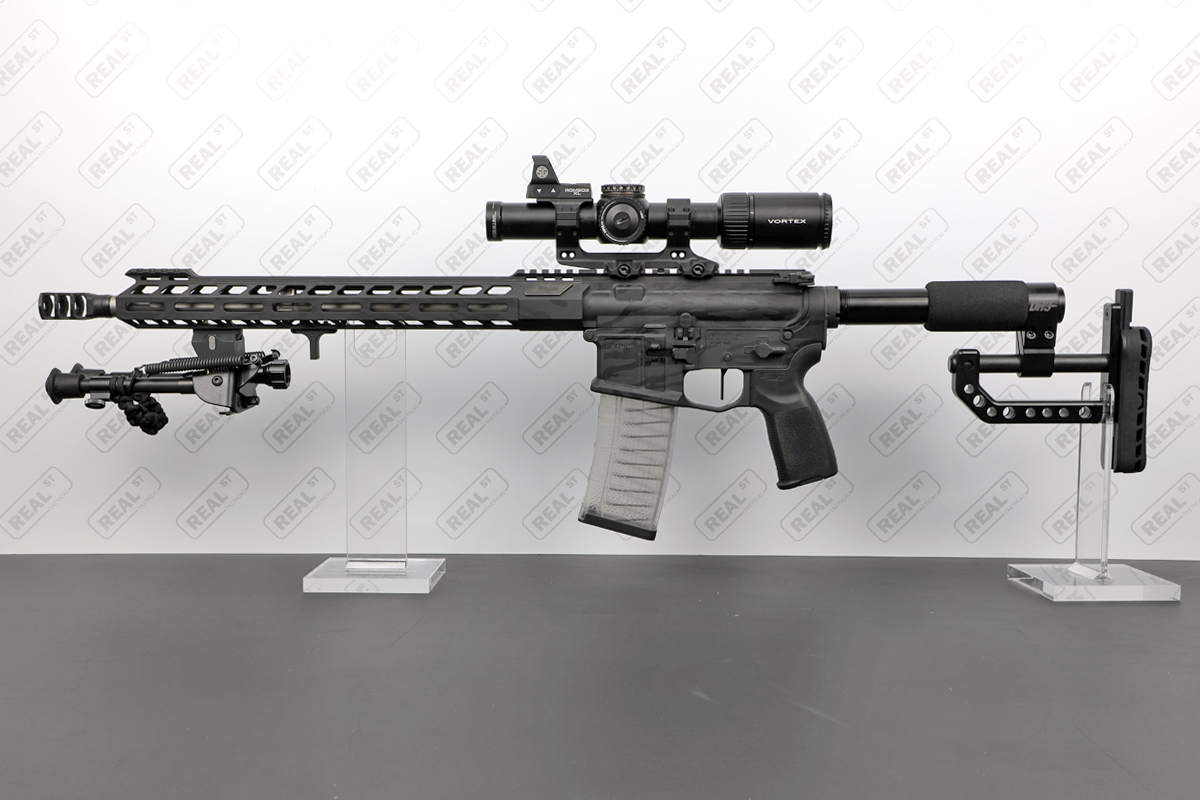 Another optic setup that I think would do well on this gun would be a 1x red dot and flip up magnifier. I will cover that in another recipe.
If you are looking to get into a carbine that will make sense for competition shooting, please feel free to reach out for help. My email is info@realstreettactical.com our phone number is 407-965-1055 or you can use the chat feature on our website, or come by in person and visit the shop at 227 Central Park Dr, Sanford FL 32771 Mon-Fri 8am-7pm and Saturday 10am-4pm.