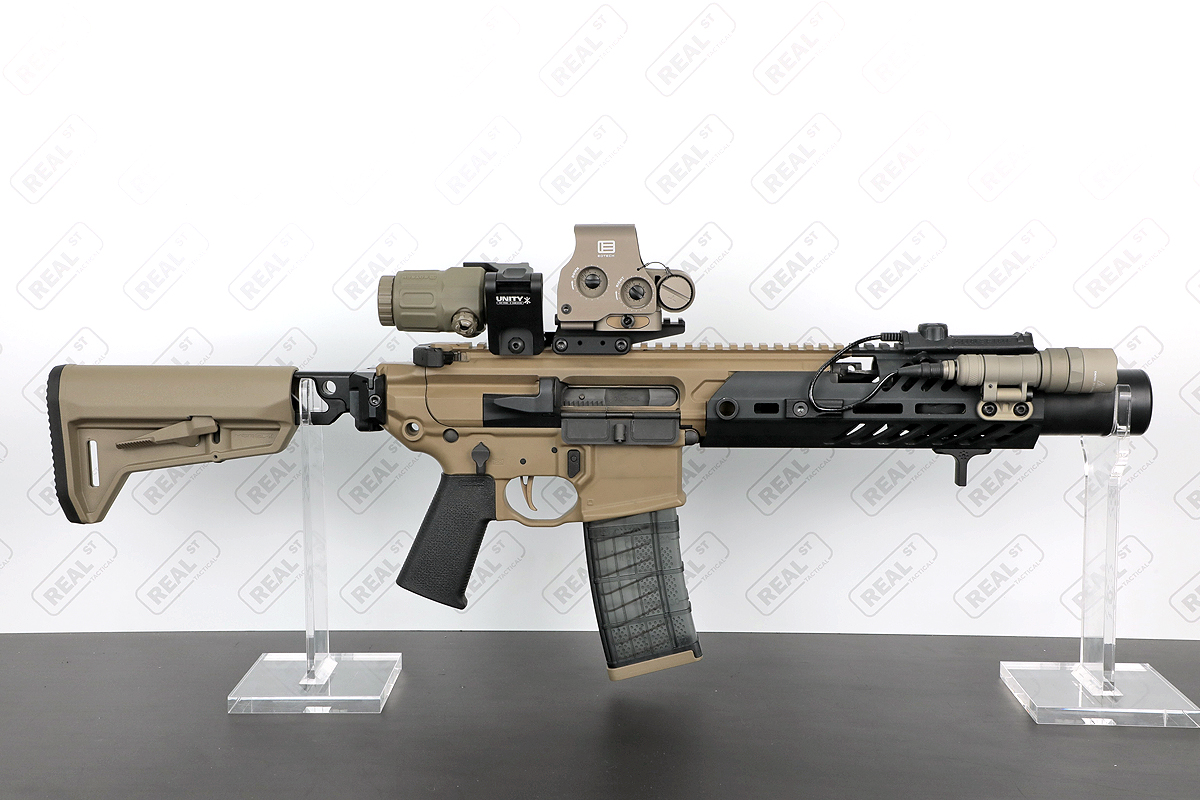 Parts List
Why this one?
There are a few good reasons to have a 300 blackout short barrel rifle
Can you think of any scenario where you might want to (or have to) shoot your rifle while not wearing hearing protection?
Can you think of any scenario where you might want more knock down stopping power than .223/5.56 will provide?
Can you think of any scenario where you may want (or need) this overall package to be smaller than a traditional 16" barrel rifle?
If you can think of a scenario that makes you want a small quiet rifle with increased stopping power, then 300 Blackout is probably your best bet. Subsonic 300 blackout ammo is bigger and heavier than .223/5.56, and is designed to travel slower than the speed of sound, which is what makes it quiet. Because the round is designed to travel slowly, it can be fired effectively from short barrels. Generally the longer the barrel is, the faster the bullet travels. So rounds that were not designed to travel slowly can become negatively affected by shorter barrel lengths when you try to make them into short barrel rifles.
Once you've decided that you want a small, quiet, heavy hitting, 300 blackout, short barrel rifle you have to pick which one you want.
I chose the Sig MCX Canebrake for a few reasons:
The Canebrake has a gas piston operating system which allows it to cycle without the need of a buffer and buffer tube. This allows you to fold the gun in half where the stock meets the back of the rifle, making it smaller and more concealable than a 16" AR15 or other similarly sized rifle.
The Canebrake comes with a 5.5" Barrel and a flash can that acts as a placeholder for your suppressor until your tax stamp is approved. This short barrel length keeps the over-all length of the rifle small and maneuverable even after the suppressor is installed, and doesn't create a negative impact on projectile trajectory because the round is designed to travel at the speeds it comes out of a 5.5" barrel at.
The hand guard that comes on the Canebrake shrouds the suppressor, allowing you to reach your support hand further forward than you would have been able to if the hand guard stopped where the barrel ends and the suppressor begins. I prefer this additional hand guard length for controlling muzzle rise.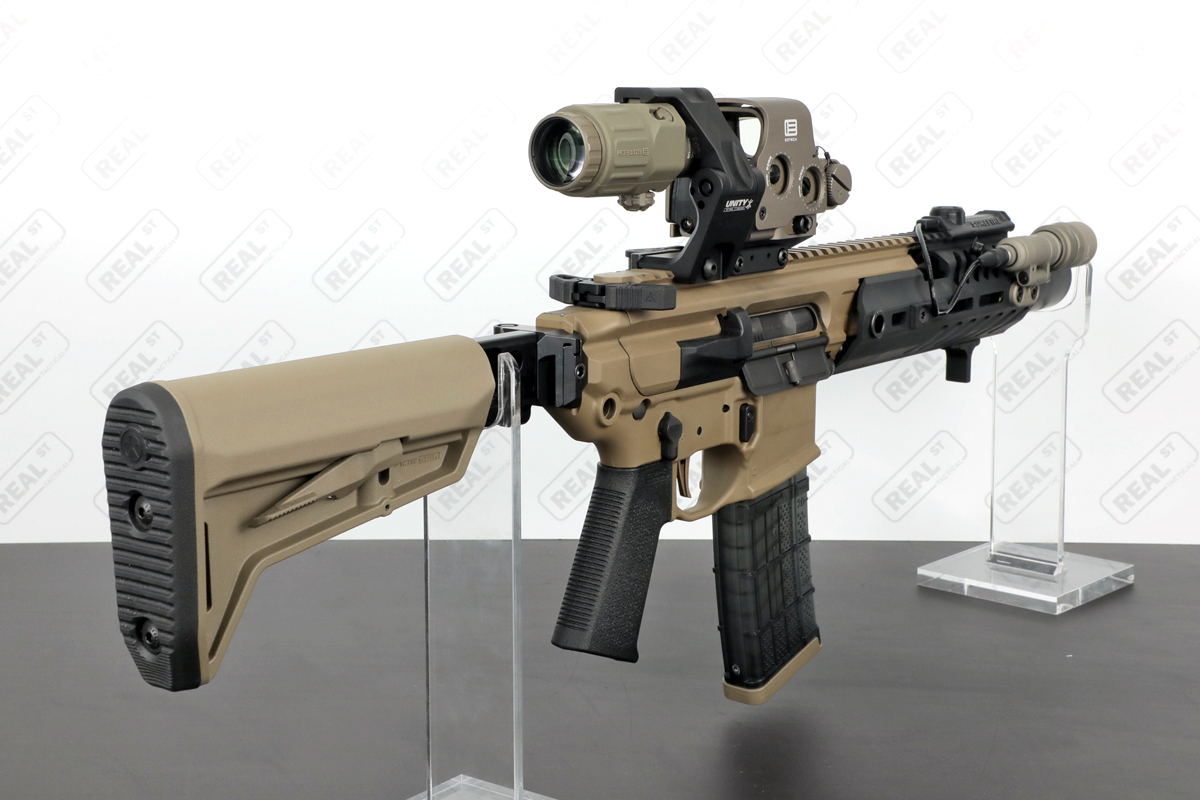 Optics
When it came time to pick out optics, I started with an EOTECH EXPS 1x holographic sight because I wasn't expecting to shoot at farther distances with a subsonic round. However, while shooting at the rifle range, I started aiming some shots at steel targets at 200 yards and 300 yards and to my surprise I was getting hits without having to hold my reticle above the target. At 100 yards I was aiming at the chest and hitting somewhere in the middle of the steel silhouette. At 300 yards I was aiming at the neck and hitting somewhere in the middle of the steel silhouette. Once I saw it was capable of hitting these shots, I decided to put a 3x EOTECH magnifier to help make those shots easier to aim.
I ended up raising the EOTECH sight with a Unity FAST Optic Riser to get it up to a more natural line of sight with my eye. And that allowed me to go to a UNITY OMNI Magnifier mount that flips the magnifier UP when in use, and DOWN out of the way when not being used. I preferred this over the EOTECH "Switch to side" mount that hangs the magnifier off the right side of the gun when not in use.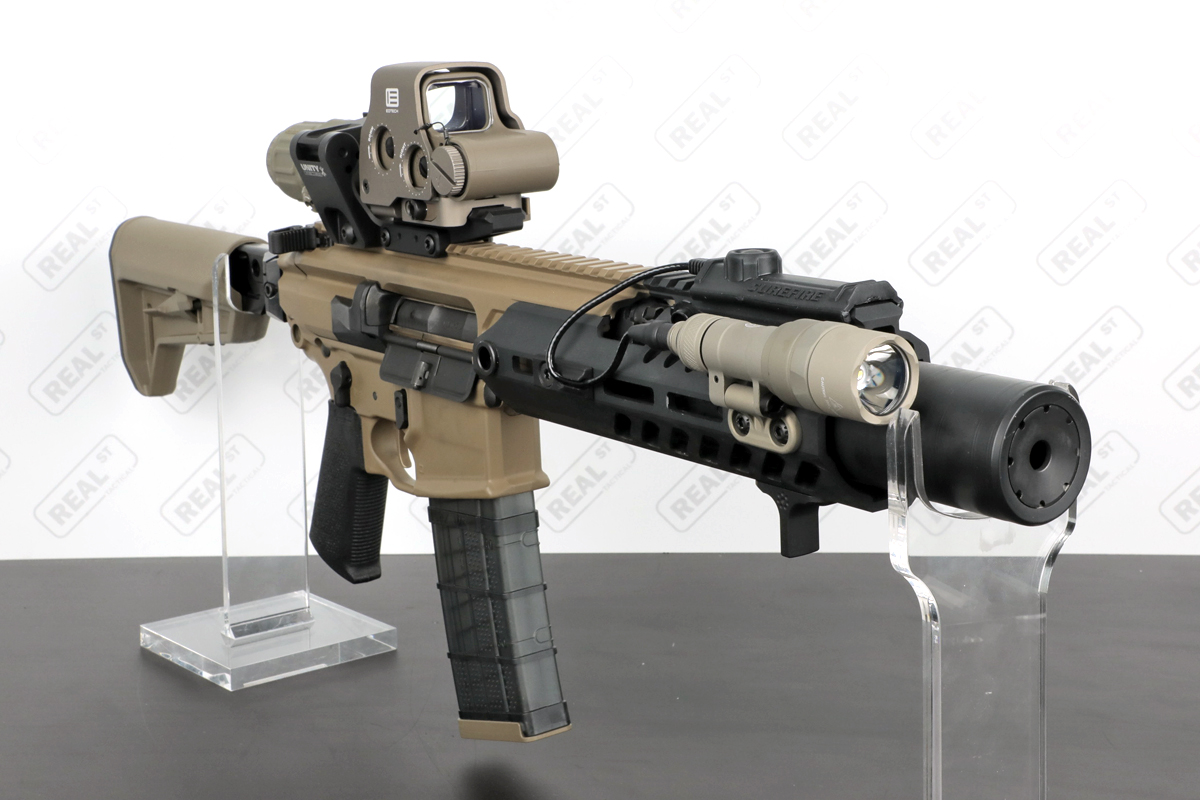 Flashlight
I added a Surefire M340C Mini Scout Light Pro and dual function pressure switch after an uncomfortable situation where I was standing outside in the dark with a (non-lit) gun in my hand and still felt helpless because I couldn't see further than a foot in front of my face. Now all my guns have lights so I never have to feel that again.
The dual function switch has one button for momentary light activation which only activates the light as long as the button is squeezed, and another button to click the light on and leave it on or click off and leave off..
Finger Indexer
I added an Arisaka Finger Indexer to the hand guard as a reference point to help with consistency in my form, and give me a reference point so I don't accidentally overreach and touch the suppressor while it's hot.
Stock
For the stock, I originally tied the JMAC skeletonized folding skeletonized stock, but eventually exchanged it for the JMAC folding skeletonized buffer tube adapter with a Magpul SK-K butt stock. They both work great, but I found the Magpul buttstock to be a little more comfortable. I put the folding skeletonized stock on my MPX and love it on that application.
Grip
One thing I did not like about the Canebrake is the grip it comes with from the factory. It's shorter than usual. I replaced it with a Magpul MOE-K grip and it immediately became more comfortable to shoot, which directly and immediately translated into more confidence in my shooting.
Magazines
I use Lancer translucent magazines to make round count easy at a glance, and the Lancer 300 Blackout mags come with a coyote brown base plate that matches the Canebrake really well.
Charging Handle
Another thing I wasn't really thrilled with from the factory on the Canebrake is the charging handle. It was smaller than I am used to, so I switched to a Radian Raptor-LT charging handle with bigger grips on the sides, making it easier to grab.
Suppressor
When it came to picking out a suppressor, I started looking into 30 caliber suppressors that had good sound reduction and was the appropriate length. I knew I wanted a direct thread suppressor because the shrouded hand guard does not allow access to a quick disconnect adapter or locking collar like are found on Keymo or ASR mounts. I originally tried a Q Full Nelson (which I already had, but is no longer available) and it ended up being a little too long for this application. I tried installing a few other suppressors and ended up deciding on the Dead Air Nomad30. I felt like it was a good mix of a.) length, b.) weight, c.) sound suppression, and it was rated for the level of abuse I was planning on putting it through with such a short barrel. There are lots of great 30cal suppressors out there, but now you know of 1 that works, and fits nicely in this application.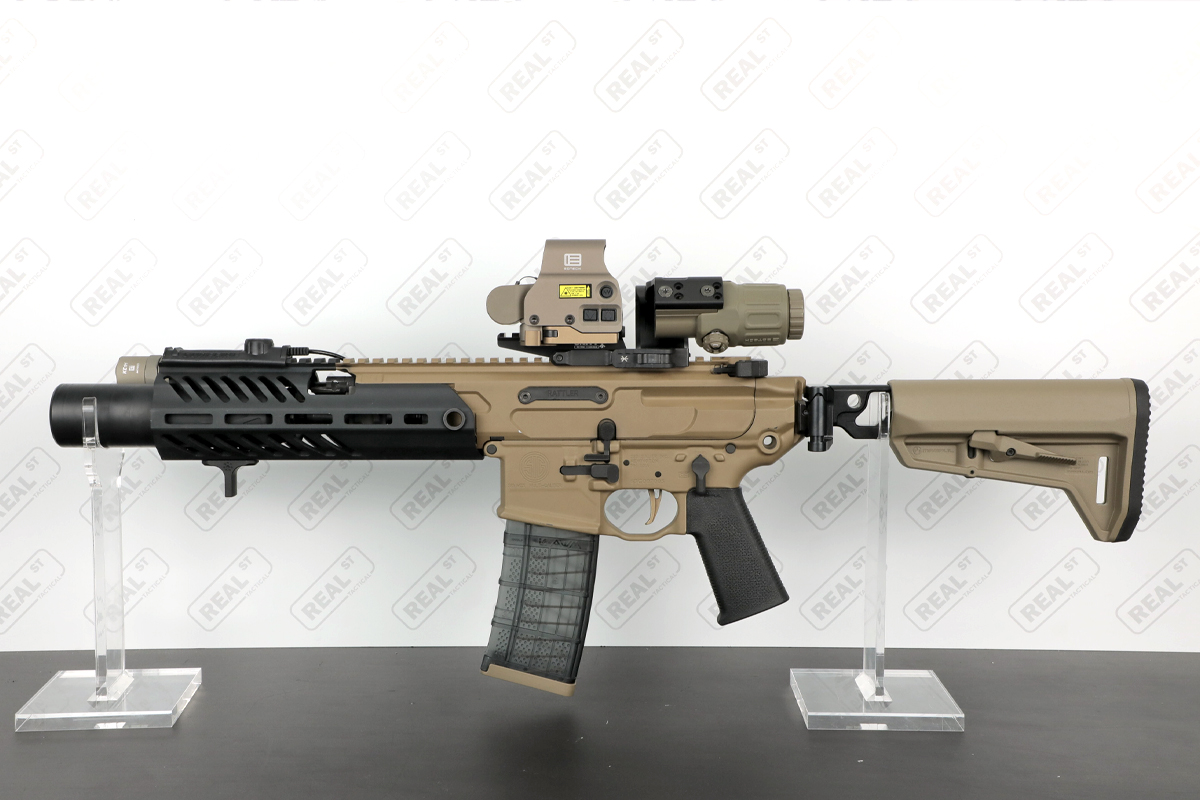 All in all, I ended up with a compact, quiet, short barrel rifle with knockdown power that can fit comfortably in a bag or a truck and can be shot comfortably without hearing protection.
If this is something you might be interested in, please reach out via email at info@realstreetperformance.com or phone at 407-965-1055 or the live chat button in the bottom right of the page and we will be happy to help you.