While many can be proficient with a handgun, the additional stabilization, magazine capacity, and optics options of a PDW/Sub Gun offer an advantage over a handgun in many ways.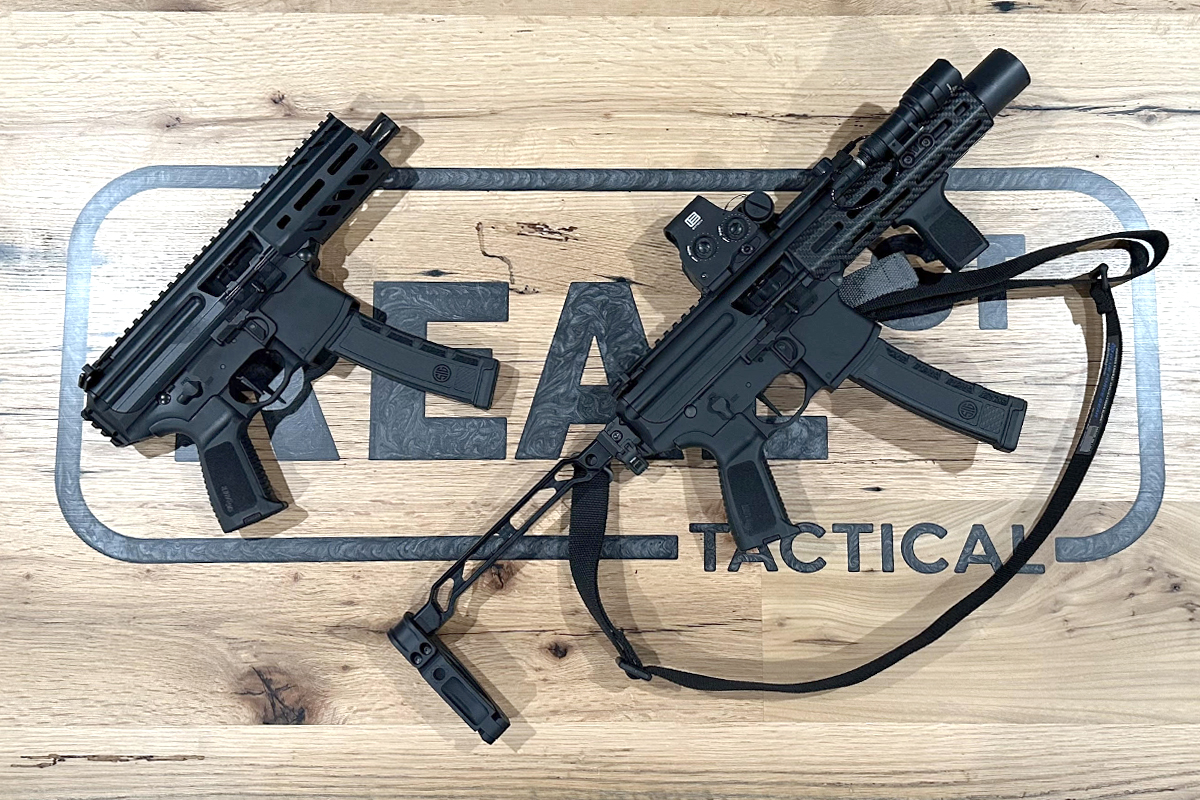 In this article we will explore what makes the Sig Sauer MPX K a great option for your next sub gun host.
Here is a list of things I look for in a compact sub gun
Size
Stability
Customizability / Adaptability / Upgradability
Size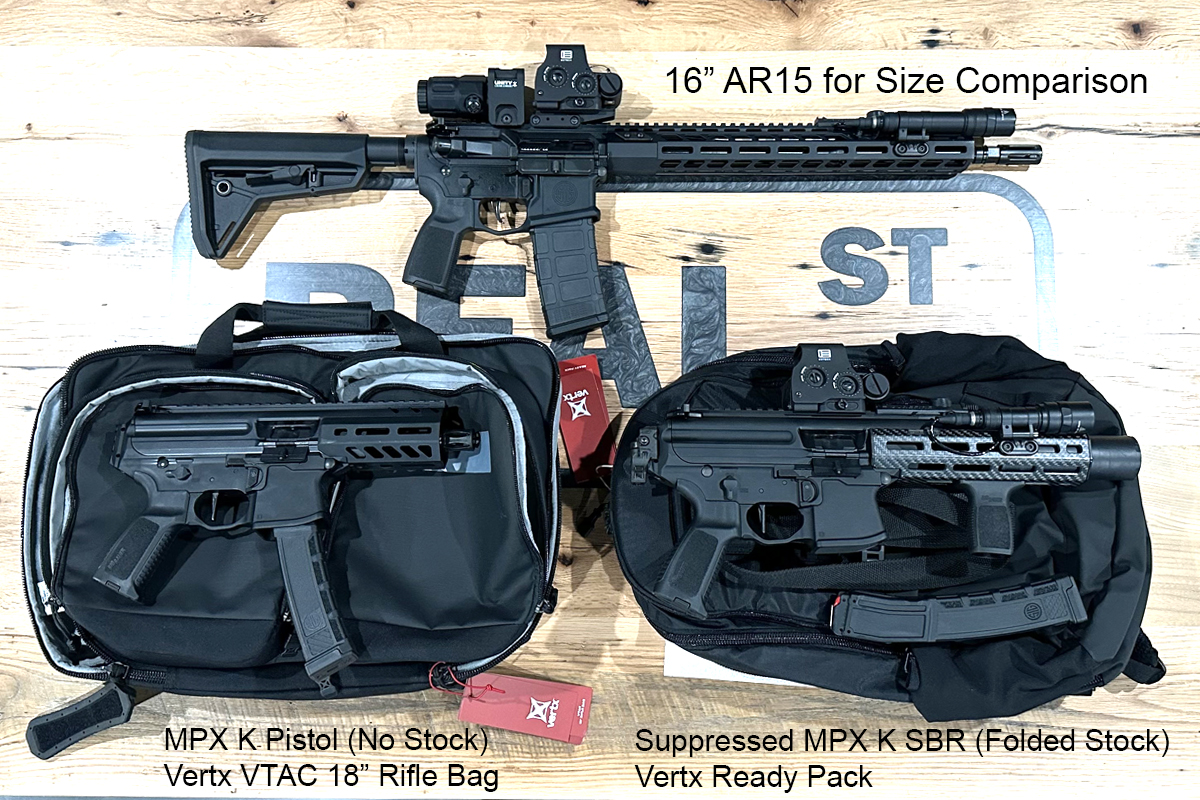 When I am building a sub gun, it differs from my traditional AR or SBR builds in that it's overall size is usually kept smaller. As a 6ft tall person, most of my AR patterned builds have 11"-16" barrels to provide me with enough room to reach my support hand out in front of me towards the front of the hand guard, and spin a rifle round enough times before it leaves the barrel to reach out to a reasonable distance. I feel this gives me more control over the direction that the gun is pointing, and holding the barrel down when shooting faster.
But when I am building a sub gun, I typically aim for a smaller overall form factor. Something that fits in places that my AR patterned builds can not like a Vertx bag, a truck center console, or a night stand.
Stability
A hand gun may have more mobility in very close quarters situations, but when it comes to getting as many hits on target as possible in the shortest period of time, I prefer having three separate points of contact on the gun. I don't think a PDW/Sub Gun is a replacement for a handgun, but it is nice to have both.
The Sig Sauer MPX K is very short, but still has room for a support hand in front, a grip hand to pull the trigger, and a shoulder to support a stock against. Note: In pistol form (as of 2023), it comes without a brace or stock. To turn it into a weapon with 3 points of contact, you will need to apply for a Form 1 Tax Stamp and add a stock.
Customizability / Adaptability / Upgradability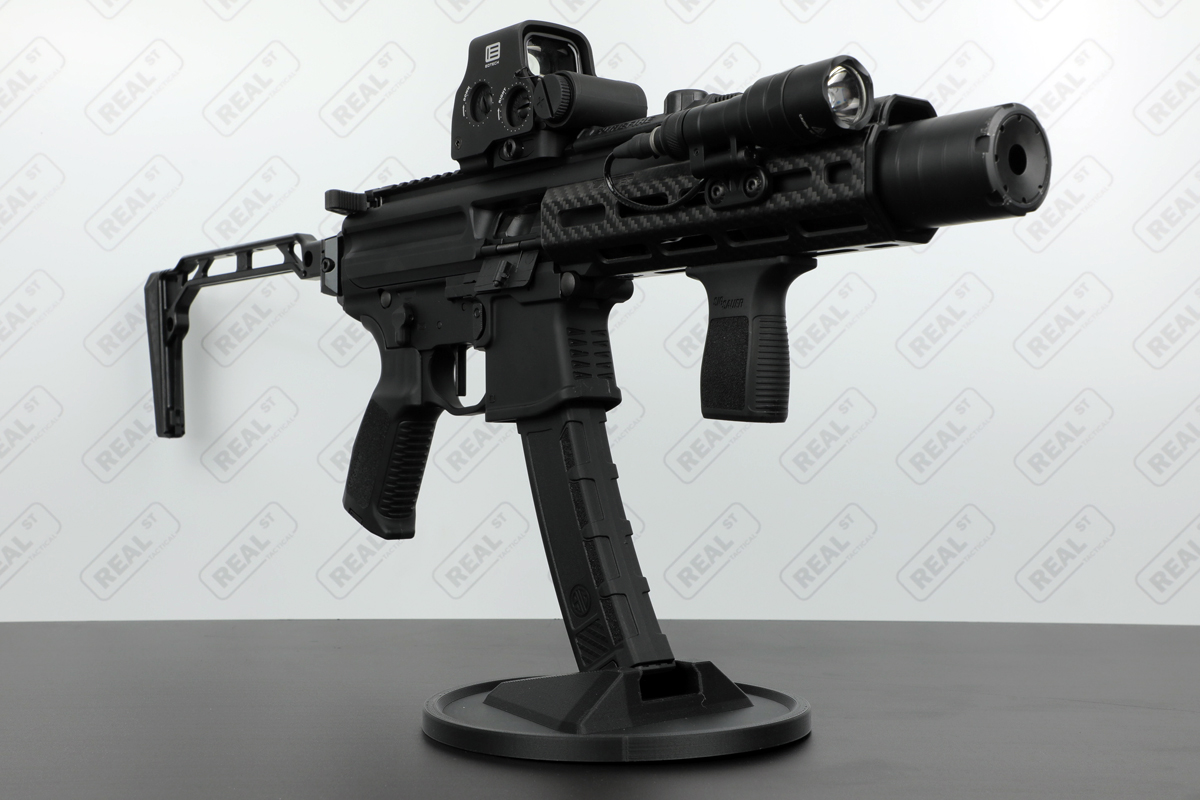 Stocks
The rear section of the MPX K has a universal picatinny rail that accepts a number of different types of folding, fixed, and telescoping stock adapters.
Front Hand Guards
The front hand guard of the MPX is designed to be removed quickly and easily by simply popping out the front takedown pin, and pulling the hand guard away from the gun. The hand guard that comes with the MPX is short, and designed for the 4.5" barrel, but many other hand guard options are available from Sig as well as the aftermarket. For example, sig makes an 8" aluminum hand guard that can be swapped on to shroud both the 4.5" barrel and a suppressor, allowing the shooter to move their support hand further forward for increased stability.
Charging Handles
The charging handle is a little small compared to what I am used to but Radian makes an upgraded charging handle that totally cures that problem for people that are used to the larger handles.
Barrels
The factory 4.5" MPX K barrel with an adjustable gas block and comes threaded with a 13.5x1 Left Hand thread that can accept a number of suppressor adaptors, and direct thread suppressors.
If 4.5" direct thread doesn't feel like the right barrel for your end goal, or you find yourself needing the ability to adjust the gas with an adjustable gas block, a company called In Lead We Trust (ILWT) offers aftermarket barrels in various lengths, with and without adjustable gas blocks, and many are even lugged for tri lug suppressor adapters and also threaded in 1/2x28 for direct thread suppressors.
Optics & Lasers
The full length of the top of MPX K is picatinny and the sides and bottom of the hand guard are M-Lok to allow for your choice of optic, magnifier, laser, light, vertical grip, etc. In the spirit of keeping the over all size of the gun small and remembering that I am dealing with 9mm ballistics, I normally put a 1x magnification red dot on mine without a magnifier. And I run a surefire scout pro light with the m-lock swivel adapter on the side of the rail to tuck the light tightly against the hard guard in the 1:30 clock position with a tape switch on the top rail.
One complaint I have seen and verified from users that often shoot with night vision is that the "quick detach" nature of the front hand guard introduces some "wiggle" to its fitment against the upper receiver. This really only becomes a problem if you have a laser mounted to the hand guard as it becomes very difficult to zero against the optic when the hand guard is constantly shifting its position against the upper receiver. A company called Arisaka makes a fix for this in the form of a bracket that pushes the hand guard against the upper receiver, fixing its position and eliminating the wiggle.
Vertical Grips
There is enough m-lock rail along the bottom of the hand guard to attach most styles of angled and vertical grip. I typically use a "thumb over top" style grip with my support hand towards the front of the hand guard on most guns. Like im shining a flash light at someone with my support hand. However the MPX K hand guard is a little short for that hand position. It can be done, but it doesn't feel natural unless I put a longer hand guard and suppressor on. Adding a vertical grip to the short hand guard allows for a more natural feeling support hand position.
Triggers
The MPX K comes with a Timney single stage flat trigger that I really like. There are other trigger options you could swap it out to but that is one thing I have never felt the urge to swap out on the MPX K. If you have a finely tuned trigger finger and want to adjust the weight of the trigger, Timney does offer an aftermarket DH3 competition MPX trigger that is adjustable between 1 to 3 lbs.
Slings
For some reason, Sig did not include QD sling mounting points on the front MPX like they did with the MCX. So, depending on which hand guard and stock I will be using, I sometimes have to add qd attachment points to the gun. I typically reach for Magpul metal M-LOK to QD mount for the front hand guard. The rear of the gun has a QD mounting point built in just above the handle if you are using the gun without a stock. And most stocks will have an additional mounting point or two on them.